When used with certain "smart" enterprise USB hubs, GroundControl can provide enhanced detail such as port number and charging rate. Some models also allow for LED control, to show successful or failed deployments, for example.
By default, Smart Hub features are enabled in Admin > Launchpads > Smart Hub Features
LED Feedback
GroundControl will use available LEDs to display pairing, charging, and workflow status information. On some models, the "Blue" LED shows as yellow.
Datamation with Multicolor LEDs
Imprivata-Branded Bretford PowerSync Pro v2

Green, solid
Idle / Successful
Fully Charged
Green, blinking
Idle / Successful
Charging
Blue, solid
Deployment in progress
Blue, blinking
Waiting for pairing or waiting for recovery mode
Red, solid
Deployment failed
Green & Blue
Not paired or pairing error
White, blinking
Check out complete, remove device now

Legacy Bretford with Amber/Green LEDs (Mac Only)

Green, solid
Idle
Fully Charged
Amber, solid
Idle
Charging
Green, blinking
Busy
Fully Charged
Amber, blinking
Busy
Charging
Port Number
When available, GroundControl can display the port number for each device plugged into a hub.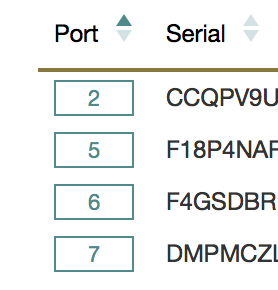 If a Launchpad detects multiple smart hubs, then it will assign each a letter. Ports will be displayed as "A-1", "A-2", "B-1", etc. A hub will be assigned the same identifier consistently, so you may physically label the hub if you desire.
Charging Rate
When available, charging rate in Amps is displayed next to the battery power level. Mouse over the battery indicator to display.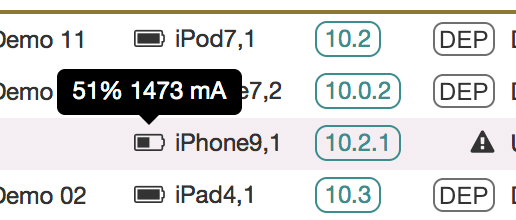 This data is refreshed every 10 seconds or so.
Supported Smart Hubs
Certain Datamation cabinets and carts use the same components as the above, and GroundControl will provide the same information.