Preparing for iOS 15
Launchpad: We have tested iOS 15 with GroundControl Launchpad version 5.0 and later and have not yet found any changes that would require a Launchpad update. We have not tested with earlier versions of Launchpad, we encourage you to test your existing workflows with iOS 15!
Server: GroundControl Server 5.1, expected in September, will include options to hide the new Magnifier app and set it up in the Icon arrangement action. We have found no issues with GroundControl Server and iOS 15
MobileDevice: As of today, iOS 15 requires 1253.100.1, same as iOS 14.5. However,  iOS 15.1, currently in Beta requires an update to MobileDevice to 1351.1 or later. Please check http://groundctl.com/mobiledevice for more information
DEP: No additional set up screens have been added so far, so existing DEP profiles used in MDM should allow the device to reach the Home Screen automatically. Please note a default Set Language and Locale action in the GroundControl workflow is required to skip the language set up on the device.
Known Issues
Update March 14th, 2022! The known issues outlined below have been resolved with iOS 15.4.
Known Issue #1: Devices may not check in if screen is off
We have identified an issue with iOS 15 and check in workflows, where devices may not check in if the device's screen is off and the Locker app is running in the foreground. The Check In action in GroundControl workflows leverages Single App Mode in iOS to force the screen to wake up and lock the device, but there appears to be bug in Single App Mode and iOS 15 that prevents this from occurring. We have reported this bug to Apple via Feedback ID FB9640857.
In the interim, you can use the following workaround:
1. Clone your Return/Check In workflow and add a Launch App action that launches a built-in app currently installed on the device. We recommend launching the Settings app (bundle ID: com.apple.Preferences) but you may launch any app, as as long as it's installed on the device: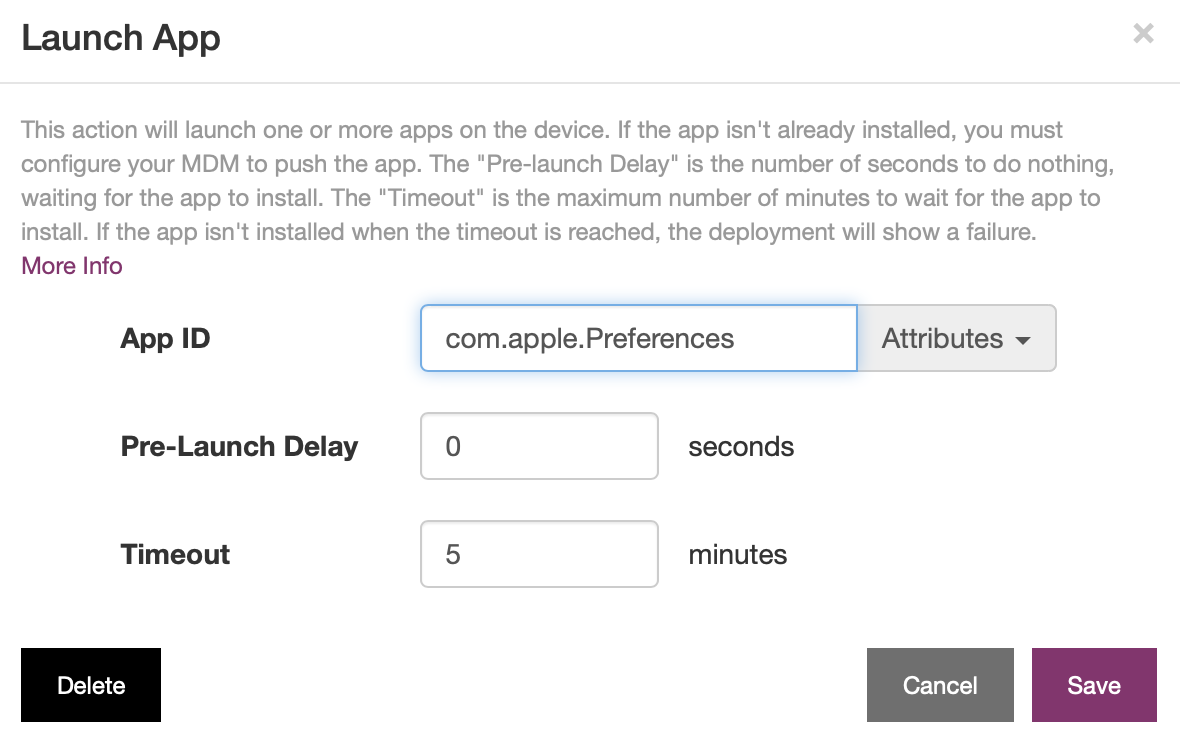 2. Click Save. Test this workflow by deploying it manually to checked out devices being checked in while the screen is locked and the screen is off. You'll want to by checking in a device where Locker is running in the foreground, as well as with another app running in the foreground.
3. Validate check in works as expected and device is locked.
4. Update the Return/ Check in automation rules to use the new workflow.
Once your devices are upgraded to iOS 15.4 version, the Launch App action workaround is no longer necessary.
Known Issue #2: Devices may require several retries to check in successfully
Even with with the workaround above, we found that an initial check in workflow may fail consistently, requiring an "On Failure" action to retry check in workflow automatically several times. This behavior has been improved in iOS 15.4.